La biografia e le curiosità sono state tradotte da Nightwishers, si tratta di sezioni del sito ufficiale della band pubblicate per l'era EFMB e tolte con la pubblicazione della versione Human.:||:Nature del sito stesso. Alcuni dettagli sono stati ampliati da noi, da interviste, Once Upon a Nightwish e varie fonti.
Biografia
Sono nato nella regione inglese della Cumbria, dai miei fantastici parenti. Sono cresciuti sognando di essere un musicista e a 16 anni ho finito la scuola con una nota che diceva: "Troy sembra essere andato per mare… e crediamo che non tornerà affatto!"
Da quel momento sono stato abbastanza fortunato da aver dato loro ragione e ho passato la mia vita immerso nella scrittura e suonando. Ho una gloriosa moglie, Terri e una fantastica figlia Mia. Viviamo in un piccolo villaggio nello North Yorkshire.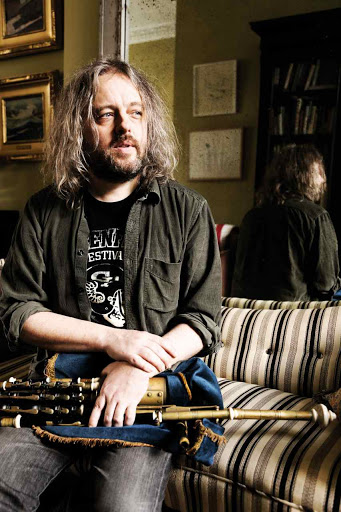 Uilleann Pipes create da Dave Williams.
Low Whistles di Bernard Overton.
High Whistles di Chris Backhouse.
Bouzoukis e acustiche di Fylde Guitars.
G7th capos.
Tastiere Roland.
PRS: chitarre elettriche con Rotosound per le corde.
Genelec: speakers.
The Bad Shepherd: dal 2008 a oggi: uillean pipes, flauti e voce
-Yan, Tyan, Tethera, Methera! (2009);
-By Hook or By Crook (2010);
-Mud Blood & Beer (2013)
AURI (con Tuomas): flauti, bodhran, chitarre, uilleann pipes, aerophone, tastiere e bouzouki.
Iona: dal 1990 al 2009; uilleann pipes
You Slosh: voce e chitarra. Glorious Racket (1989), Lift me up (1991)
Solista:
–The Unseen Stream (1998)
–The pursuit of Illusion (2003)
–The Madness of Crowds (2009)
-Messages (2011)
Ayreon: The Theory of everything (2013); flauti e uilleann pipes
Kamelot: Haven (2015); uilleann pipes
Sonata Arctica: The Ninth Hour (2016); flauti
Tuomas Holopainen: The Life and times of Scrooge (2014); uilleann pipes, flauti e bodhran.
Barbara Dickson: Full Circle (2004), Time and tide (2008), Words Unspoken (2011), To Each and Everyone- The songs of Gerry Rafferty (2013)
Dave Bainbrigde: When Worlds Collide (2005), From Silence (2005)
Maddy Prior: Flesh and Blood (1997), Ravenchild (199), Ballads and Candles (2000), Arthur and the King (2001), Lionheart (2003)
Midge Ure: Duet (2006)
The Enid: The Seed and the sower (1987)
Kathryn Tickell: Debatable lands (1999)
Mostly Autumn:
–The spirit of autumn past (1999),
–The Last bright light (2001),
–Passengers (2003)
–Storms over Water (2005)
–Storms of London Town (2006)
–Heart full of Sky (2007)
–Glass Shadows (2008)
–Go well diamond heart (2010)
–Ghost Moon Orchestra (2012
Mermaid Kiss: Etarlis (2007)
Magenta: Home (2006), Metamorphosis (2008)
Johanna Kurkela: Hyvästi Dolores Haze (2010)
Kompendium: Beneath the waves (2012)
Mike Dawes: What just happened? (2013)
Gandalf's Fist: A Forest of Fey (2014)
Karnataka: The gathering light (2010), Secrets of Angels (2016)
Steve Hackett: The Night Siren (2017)
Canzone preferita dei NW
Sicuramente The Greatest Show on Earth
Passione segreta
Pentole e padelle…ma non so perché
Hobbies
Magia, magliette interessanti, cucinare male (Baking Bread, gioco di parole con la serie tv,ndt)
Studiare le origini del cristianesimo, guardare desideroso gli skateboard, fare l'hummus, odiare il calcio, amare il pensiero libero e la scienza, parlare da solo e fare schifo col bricolage.
Filosofia di vita
La risata è il suono della libertà
Messaggio per i fans
Non è meraviglioso?
Top 5
Tir na Nog – Alan Stivell
Going for the one – Yes
Words and Music – Planxty
Wish you were Here – Pink Floyd
Wrecking Ball – Emmylou Harris
Wuthering Heights – Kate Bush
Life on Mars – David Bowie
Once in a Lifetime – Talking Heads
Ballroom Blitz – The Sweet
Whole of the Moon – The Waterboys
Sons of the Desert
Ghost and Mrs Muir
L'Attimo fuggente
Harvey
Lo squalo
Demon Haunted World – Carl Sagan
The Sea Lady – H.G. Wells
Storie brevi – Mark Twain
End of Faith – Sam Harris
Mary Poppins – P.L. Travers
Spinaci e Masala vegetale
Crumpets (dolci inglesi simili ai pancakes)
Hummus
Oatcakes (biscotti di malto)
Cornish Pasties (pasticcio di carne)
Acqua
Shiraz (vino rosso)
Cream Soda
Birre ALE particolari
Laphroaig (whisky di malto)
è vegano
nel tempo libero fa il prestigiatore
ha inciso parte della colonna sonora per Robin Hood di Ridley Scott e Iron Clad
Speciale: AURI
Speciale dedicato alla band di Tuomas, Troy e Johanna Kurkela