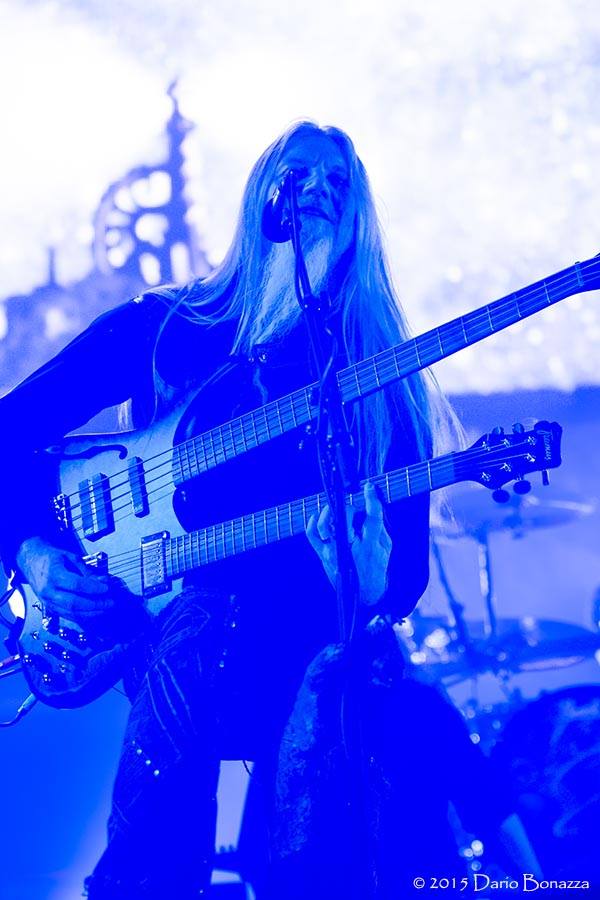 Una breve carrellata di tutte le date della band:
La prima 'calata' finnica in Italia ebbe luogo nel 1999, il 2 Dicembre. La band infatti suonò come supporter ai Rage, presso il Supermarket di Torino. Si trattava del primo tour europeo della band a supporto di Oceanborn, e la scaletta ne fu fortemente influenzata:
Passion and the opera
Stargazers
Gethsemane
Walking in the air
Sacrament of Wilderness
Know why the Nightingale sings?
The Pharao sails to Orion
Nonostante gli anni, un sant'uomo/santa donna riuscì a filmare tutto il set e lo possiamo vedere su Youtube:
Passano 5 anni prima del ritorno della band e siamo già nel periodo Once: per il Once upon a Tour infatti la band arriva nel capoluogo lombardo, al Madza Palace (attuale Palasharp di Lampugnano) il 28 Ottobre 2004
La scaletta si allunga, non sono più di spalla:
Dark chest of wonders
Planet Hell
Deep Silent Complete
The Phantom and the Opera
Ever Dream
Sleeping Sun
Symphony of destruction (cover dei Megadeth)
Bless the child
Kinslayer
Wishmaster
Dead Boy's poem
Slaying the dreamer
Nemo
Ghost Love Score
Wish I Had an angel
https://www.youtube.com/watch?v=lK40Fe4Aa4c&list=PLOfaNyN1xPVliuVtpV94TyQDJmzqYdGEY
Ma i fans italiani non dovranno attendere molto prima del ritorno della band: Evolution Festival? Ebbene sì, presenti. 16 Luglio 2005 a Toscolano Maderno (provincia di Brescia… l'abbiamo Googlato anche noi :P)
Si trattava ancora del Once Upon Tour ma la scaletta ha subito delle interessanti modifiche:
Dark Chest of wonders
The Siren
Ever Dream
Deep Silent Complete
Kinslayer
High Hopes (cover dei Pink Floyd)
Planet Hell
Wishmaster
Slaying the dreamer
Kuolema teeke taiteilijan
Nemo
Ghost Love Score
Over the hills and far away
Wish I Had an angel
Passano 3 anni, siamo nel 2008 e sappiamo tutti che in quel periodo è successo quel che è successo. Il primo concerto in Italia con Anette si ha il 2 Marzo 2008 al Palalido di Milano (attualmente inutilizzabile per restauri)
Per il Dark Passion Play tour ci viene proposto questo 'menù' :
Bye Bye Beautiful
Dark Chest of Wonders
Whoever brings the night
Ever dream
The Siren
Amaranth
The Islander
The Poet and the pendulum
Sacrament of wilderness
Sahara
Nemo
7 Days to the wolves
Wishmaster
Wish I had an angel
Anche a questo giro non passa molto prima di rivedere i nostri beniamini: viene annunciato il Dark Passion Play Dejà Vu Tour con ben due date sul suolo italico.
Il 30 Marzo 2009 il Palabam di Mantova si infiamma e il giorno dopo a Pordenone la seconda serata di emozioni. Le scalette furono identiche:
7 Days to the wolves
Dead to the world
The siren
Amarath
Romanticide
Dead boy's poem
The poet and the pendulum
Nemo
Sahara
The Islander
Last of the wilds
Escapist
Dark Chest of wonders
Ghost love score
Wish I had an angel
Dopo 'soli' 3 anni e un nuovo strepitoso album da presentare, torniamo nella città meneghina: è il 25 Aprile 2012 e siamo pronti per l'Imaginaerum World Tour al Mediolanum Forum di Assago
Taikatalvi
Storytime
Wish I had an angel
Amaranth
Scaretale
Slow love slow
*entra Troy, ancora guest*
I want my tears back
Come cover me
The Crow, the owl and the dove
The islander
Nemo (acoustic version)
Last  of the Wilds
*esce Troy*
Planet Hell
Ghost river
Dead to the world
*torna Troy*
Over the hills and far away
Finlandia (cover di Sibelius)
Song of Myself
Last ride of the day
Imaginaerum (outro)
Altri grossi cambiamenti accadono tra il 2012 e il 29 Novembre 2015: la band ci presenta l'ultima fatica con l'Endless Forms Most Beautiful world tour, ma anche la nuova cantante Floor Jansen, la quale non aveva ancora presenziato in Italia con i NW:
Shudder before the beautiful
Yours is an empty hope
ever dream
Wishmaster
My walden
The Islander
Elan
Weak Fantasy
7 days to the wolves
Storytime
I want my tears back
Nemo
Stargazers
While your lips are still red
Ghost love score
last ride of the day
The greatest show on earth
Leggi i nostri report qui 
Altro festival estivo in Italia: Rock In Roma, 8 Giugno 2016. Una band che fa fuoco e fiamme per una scaletta interessante:
Shudder Before The Beautiful
Yours is an Empty Hope
Ever Dream
Storytime

My Walden

Elan
Weak Fantasy
7 Days to the wolvers
Alpenglow
Sahara

She is my sin

I want my tears back

Nemo

Stargazers

Ghost Love Score

Last ride of the day

The Greatest Show on Earth
(Chapter 2, 3, 4)
Ma qualcosa ci dice che la band ama particolarmente l'Italia…o il nostro vino…
Un grande ritorno a MANTOVA, pronti per la terza data in un anno, 12 settembre 2016!